The success of the Nintendo Switch has been mentioned many times over the course of this year, thanks in large part to a stellar Year One library of games. So, instead of focusing on that, let's talk about five potential Switch titles I want to see.
---
What began with a smaller lineup headlined by The Legend of Zelda: Breath of the Wild way back in March has now grown to include just about anything you can think of. From Nintendo's own brand names both old and new, to big-name third parties, and even smalltime indie developers, the Switch has something for everyone. Moreso, 2018 proves to be just as bountiful for the Switch, with games like Kirby Star Allies, a Yoshi's Woolly World sequel, and BlazBlue: Cross Tag Battle primed for release.
Yet, while the Switch's ever-growing library is a boon for many, the Big N especially, it can also get people wondering what else could make its mark there. Visions of franchises with games tailor-made for the hybrid's capabilities are bound to tingle the nerve endings of many. There are bound to be plenty of wishlists for what people want to see in the Switch's second year and beyond.
Present company included, of course.
---
For full disclosure, I'm going into this with very few "ground rules" to go off of, chief among them being that this is in no set order of most-wanted to least-wanted. Obviously, what I want to see needs to be plausible for Nintendo, meaning there needs to be realistic argument for a game's chances at showing up on the system. That means nothing like ports of Horizon Zero Dawn or Cuphead will show up here, though those would certainly be sweet additions.
Also, I'll be trying to shy away from what I like to call "gimmie picks," or choices that are considered common among Nintendo enthusiasts, which means you won't be seeing things like Animal Crossing or Super Smash Bros. on this list.
Other than all of that, just keep in mind that this is all personal opinion. With that out of the way, let's get down to it.
---

(Image courtesy of Nintendo Life)
Diddy Kong Racing
While a new Donkey Kong Country title following in the footsteps of Tropical Freeze is likely in the cards, I'd personally love to see Retro Studios revive another branch of the Country that hasn't been touched for almost 20 years. Diddy Kong Racing was a kart racer ahead of its time when it launched on the Nintendo 64; in addition to a story mode, the game gave players three different vehicles to work with, and racetracks that took advantage of their capabilities. The framework for a DKR reboot is there, so it all comes down to Nintendo (and hopefully Retro Studios) ticking the right boxes. One thing they could do is make the gameplay more dynamic by introducing the ability to transform vehicles on the fly and adapt to changes in the course. Throw in a variety of environments and maybe a new soundtrack by original DKR composer David Wise, and we might have a challenger to Mario Kart's throne on our hands.
---

(Image courtesy of Nintendo Life)
Kid Icarus
Once a prominent resident of Nintendo's Island of Misfit Franchises, the Kid Icarus series found new life between a playable appearance by protagonist Pit in Super Smash Bros. Brawl, and the series' first entry in over a quarter of a century four years later. Kid Icarus Uprising was released on the Nintendo 3DS to glowing reviews, with the only hang-up for most people being an awkward control scheme. Otherwise, the game's gorgeous visuals, chaotic gameplay, whip-smart humor and excellent voicework made it a 3DS hallmark. While producer Masahiro Sakurai said that a sequel wasn't likely, giving this game the high-def treatment would be the next best thing, alleviating the control issues many had before and introducing the series to people who may not have played it. Or, alternatively, Nintendo could hand the series' reines over to a new director and try a new angle, such as a run-and-gun platformer similar to Gunstar Heroes or the aformentioned Cuphead.
---

(Image courtesy of the Mario & Luigi Wiki)
Mario & Luigi
The thought of a new Mario RPG on the Switch is sure to bring up discussion over how Nintendo should approach it, and there's bound to be a number of people who want Paper Mario to go back to its turn-based roots. While that would be nice, I would personally be all for a new Mario & Luigi RPG. Reason being, not only are those games fun and exciting to play, but they're also some of the funniest games in the Super Mario series. Of course, the only question from there would be what exactly Nintendo should do next; from its humble beginnings in Superstar Saga, the series has seen the brothers jump back and forth through time, explored the innards of their perennial nemesis Bowser, walk through dreamscapes, and even team up with Mario's paper counterpart. There's still plenty that hasn't been introduced in the Mario & Luigi series as of yet, such as Rosalina from the Galaxy games or the cast of Donkey Kong Country, so it can't be that difficult to find a new angle to play off of.
---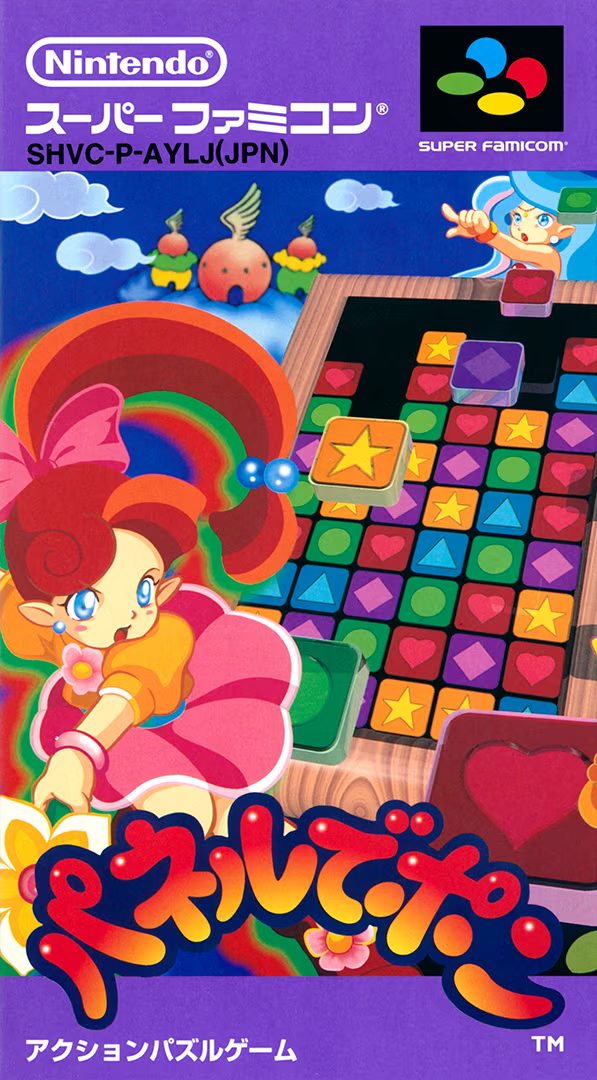 (Image courtesy of Nintendo Wiki)
Panel de Pon
Nintendo's been willing to take a chance on new franchises like Splatoon and ARMS, and the payoff for both has been excellent. So why not take the same chances and try to not just revive an older franchise, but bring one to the west? Panel de Pon is a fairly obscure puzzle game that was given a Yoshi's Island reskin and turned into Tetris Attack over in the States. It's an interesting kind of puzzle game where you clear out stacks of blocks rather than guiding them to where they should go like in Tetris or Puyo Puyo.  A game like Panel de Pon would make for some healthy competition with the current king of Switch puzzlers, Puyo Puyo Tetris, and with how speedrun friendly games like Super Mario Odyssey have been, Nintendo could make this a perfect game for races. With an overhaul to the game's cutesy artstyle and maybe a gameplay tweak here and there, Panel de Pon could be a hit in the west in Nintendo wants to take a gamble on it.
---
(Image courtesy of Engadget)
Star Fox
Much like Fire Emblem, Star Fox has the potential to be an essential part of Nintendo's higher-tier IPs. The issue is that the Big N doesn't seem to know what to do with it; the franchise has been in a constant state of flux, rebooting itself every few generations with a few games along the way. As annoying as it might sound to some, I do think that one more reboot of Star Fox on the Switch could be what the series needs. However, the big difference is that this time, Nintendo shouldn't follow the blueprints laid out by the original SNES title; keep the essential elements of the series, certainly, and Nintendo could even pull from other games in the series like Star Fox 2, which has received overall decent marks thanks to its SNES Classic release. But in general, Nintendo should make it discernible enough for it to stand on its own.  Whether they ask Platinum Games to try again, or even call on another developer like Treasure Games, having a solid Star Fox game on the Switch could be the start of something beautiful.
---
Will Nintendo answer all of these wishes? Realistically, no, but it never hurts to dream. There are other third party games I'd like to see make it to the Switch, but this piece has gone on long enough, so I'll wrap it here and perhaps make a Part 2 later on. But I leave you with something that's been said multiple times before, but bears a reminder: Nintendo has been on a massive tear this year, and if they keep playing their cards right, regardless of what comes out, Year Two is going to be just as amazing.
'Til we meet again,
Tom