The platform fighter is an interesting breed of fighting game, with its simplified controls and freedom of movement compared to traditional arcade fighting giants. What started with Super Smash Bros. way back on the Nintendo 64 has expanded from a Saturday night crowdpleaser at parties to a fighting game tournament linchpin. They are easy to learn on the outset, yet enormously complex once you go beneath the surface. Platform fighters have ascended to a whole new level in recent years, thanks in large part to the resurgence of Super Smash Bros. Melee…often considered the competitive pinnacle of the Smash Bros. series…and the rise of the series' fourth iteration on the Wii U.
And if they play their cards right, Wavedash Games could take the genre to a whole new level.
---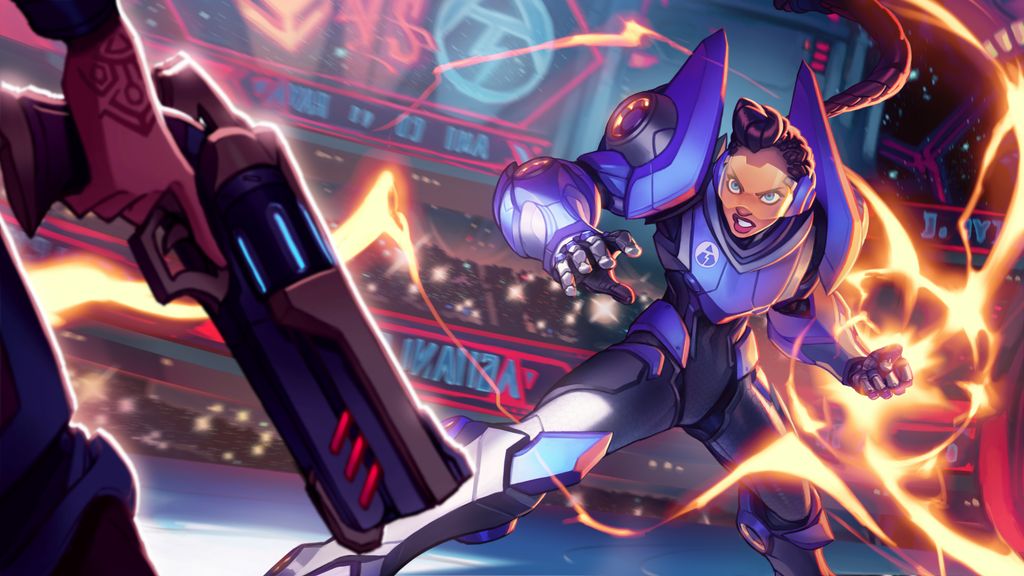 (Image from Wavedash Games' official Twitter account, @wewavedash)
The Oakland-based game developer has been working on a platform fighter that's tailor-made for competitive play. Wavedash Games is a blend of the grassroots passion found among the Super Smash Bros. Melee community, and all-star development talent from developers like Riot Games and Blizzard Entertainment, brought together to create the ultimate competitive platform fighter. They've also brought in the finest Melee players to playtest the game behind closed doors.
The studio's end goal? As co-founder and creative director Jason Rice said in a TechCrunch interview, "Do for the platform fighter genre what League of Legends has done for MOBA." In other words, Wavedash Games wants a PC platform fighter that follows in Riot Games' footsteps.
Of course, the company hasn't been developing entirely behind a curtain. They've been giving fans small glimpses of its progress, including "Commit(s) of the Day" on their Twitter account, and developer vlogs hosted by Rice. Official gameplay is supposed to be shown off for the first time at some point this summer, but with regards to insight, these have been decent substitutes as of this writing.
---
The aforementioned TechCrunch interview with Rice and primary founder Matt Fairchild highlighted some new details on this mystery game. In addition to a $6 million funding round from March Capital, readers got a brief sample of the game's lore, a world where competition is the alternative to warfare, and eight characters (at the start, at least) fight it out for their people.
So far, we know of three of these characters:
Ashani, an African-American woman with a slick-looking power suit, and the game's "Speedy Brawler." (And the badass in the picture seen a few paragraphs up.)
Xana, a hulking alien "Belle of the Brawl" who specializes in grappling foes into oblivion.
Kidd, an anthropomorphic goat that, if Wavedash Games' pitch is to be believed, should be all too familiar to competitive Super Smash Bros. Melee
Another character that goes by the name of Raymer has been mentioned, though little is known about him other than the fact that he's portrayed by legendary voiceover artist Steven Jay Blum. Otherwise, we know very little about the rest of the first eight characters outside of gameplay archetypes, which Rice has gone over in a developer's vlog.
---
While gameplay is still a ways off from being shown (as of this writing), I can at least comment on the overall vision of the game based on what's known so far. Wavedash Games stated in a Reddit AMA that they would be following League of Legends' free-to-play model, with a rotating roster of free characters and the ability to purchase new characters and cosmetics with either in-game currency or real money.
This doesn't seem like a bad idea in theory. Riot Games has received high praise for making League of Legends a freemium game, even managing to win a Golden Joystick Award in 2011 for that distinction. Iron Galaxy's Killer Instinct follows a similar system, but with a single rotating character a week instead of a cluster of them at a time, and so far that model seems to have worked out in their favor.
Even though it's a good idea overall, I somewhat disagree with the idea of a rotating cast. The reason I say "somewhat" is because the idea isn't bad at all in the long-term, but I don't think it makes much sense at the outset. The model works for League of Legends, but keep in mind that the game started off with forty champions to choose from. In this case, the game is going to start off with eight characters, which isn't that much by comparison. A rotating cast would make more sense here when the game hits twelve or sixteen characters, with eight being available from the get-go. Having all eight characters available at the start would be a better way for players to get used to the mechanics and establish a good starting metagame.
---
The three character designs that have been shown off so far are great. While I wouldn't put them above the likes of, say, Overwatch or League of Legends' character designs, Ashani, Kidd and Xana all look good in terms of visuals, and I'm sure they'll look even better in motion once we get some gameplay. Though, if I had to nitpick any of the character designs, it would have to be Kidd's.
I understand diversity in design, and I get the inclusion of a character that harkens back to the spirit of Fox McCloud and Falco Lombardi in Melee. That said, why make your "Space Animal" character…well, a literal animal? It feels like you're trying to ape the best of Melee all the way down to aesthetics. Obviously you can't go back and change things now, so take my nitpicking as you will, but it wouldn't have hurt to make that kind of character a human, or even an alien.
---
All of that harping on character design brings me to the one major hope that I have for this game. I don't have a terribly long wishlist, so you're not going to see too much. That being said, I want this game to stand out from its predecessor more than anything.
Look, I've mentioned before that I love watching competitive Super Smash Bros. Melee. It's a few ticks behind Ultimate Marvel vs. Capcom 3, Killer Instinct, Smash Bros. 4 and Guilty Gear Xrd when it comes to my favorite fighting games to watch, even if it's some combination of the same six guys in contention to win it all at a major tournament like Evo. But I'm a guy who likes innovations made to old concepts. Shake up an idea, and I guarantee you I'll take note of it.
For example, Rivals of Aether does a great job of putting a new spin on the platform fighter formula. The game replaces grabs, shields and ledge climbing with a parry system and universal walljumping to create a more offense-friendly metagame. Brawlhalla also has something interesting going for it with its item-based movepools for each character.
And this desire doesn't even stop at spectating. The Wavedash Games team has said that they're aiming to make the game accessible, yet still difficult to master, which I hope they stick to. Some elements from Melee are worth implementing, certainly, but don't do it wholesale down to the control methods.
---
My point is this: The game can thrive in the long run with the talent it has, and I believe that it could succeed Melee as the premiere platform fighter that most people are used to. In fact, I'll go so far as to say that it will succeed Melee with time. That being said, I want Wavedash Games to make their game a different breed of platform fighter, not just 20XX for a new era. Keep the essentials, but do something that nobody else has thought of before.
They pull that off, and Wavedash Games' title will truly, in a word, "Shine."
'Til we meet again,
Tom